eDirectory.com
eDirectory.com was one of the first companies to include webinars in their marketing strategy for educating customers.
And when it comes to bringing people together, they are experts.
eDirectory.com needed:
An affordable tool for running directory software webinars frequently and at a reasonable price
An educational platform their clients and prospects could use to learn about the online directory software and the company
Meaningful engagement with their community of directory software users all around the world
Passion & expertise
When it comes to bringing people together, eDirectory.com is an expert. They are passionate about building directory-based websites and apps and are considered experts in what they do. As Marco Bizzarri from eDirectory Business Development Team explains:
The mission of eDirectory.com is to continually improve in order to remain the best online directory software on the planet. In doing so, we aim to give clients the power to create meaningful communities online and bring more people closer together based on similar interests using our online directory software.
The numbers speak for themselves. With a market reach that includes 68 countries in 7 languages, they've helped more than 5,000 customers by launching buyer's guides, local business directories, product catalogues, coupon sites, industry portals, membership websites, and more.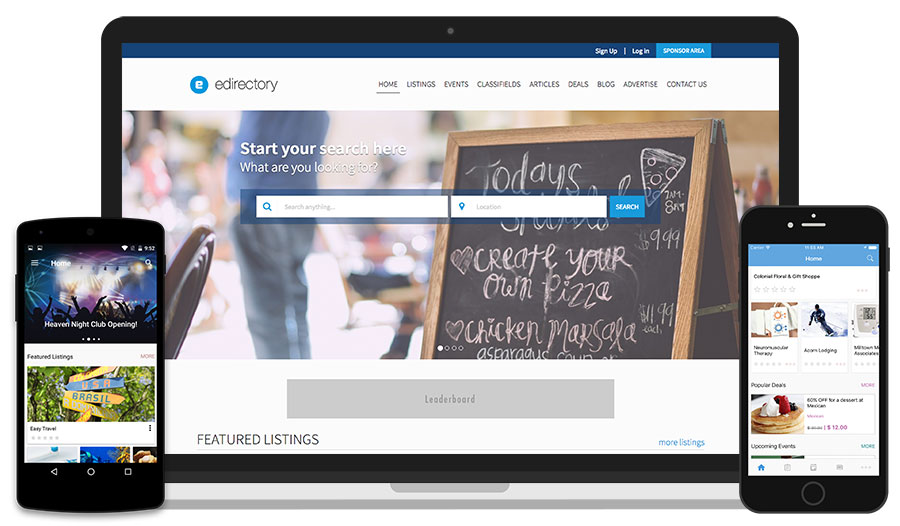 Affordable improvement
eDirectory.com was one of the first companies to include webinars in their marketing strategy for educating customers. However, because of the high costs of their previous webinar provider, they were forced to stop running online events. But as the webinar market developed, and they found ClickMeeting, eDirectory.com decided to revive this strategy.
Through weekly webinars they can not only target their audience all around the world but also get valuable real-time feedback, allowing them to improve their online directory software further.
Features for engaging the audience
The feedback from the global eDirectory community has been outstanding! said Marco Bizzarri. Clients and prospects LOVE that we are available to them in real-time via webinars. We are no longer a faceless website; they can see that there are people here at eDirectory that truly care about ensuring their success with our online directory software.
The webinar setting makes it simple and easy to visualize, explain, and educate – and more effective than just a website. eDirectory.com admits that, at times, it is challenging to speak to all attendees and answer their questions in the limited time of a webinar session. And communicating with those who missed webinars (due to time zones differences, for example) also poses a challenge.
Fortunately, ClickMeeting enables them to tackle these problems by providing follow-up tools and access to attendee details. Other ClickMeeting features, for use before and after the webinar, also make the experience easier: customizable registration form and waiting room, embedding the webinar room on the website, one-click webinar recording and direct uploads to YouTube.
With access to all the above features, and more, eDirectory's prospective clients can see how the company engages with their community.
The company is more than happy with their experience thus far:
ClickMeeting facilitated:
Feeling inspired by this story? You can start creating your own, using our webinar platform. Create a free account and start today!